PLAN A
The 2 bedroom units have 2 car tandem parking garage included in rent. No parking permit.
PLAN B , B+ , C , C+, D , D+ , E , E+ , F , F+
Each unit has 2 garage parking spaces and 1 parking permit which can be used to park anywhere within the gated complex.
These 3 spaces are included in your rent.
All housemates must take turns sharing the 3 parking spaces and also take turns parking on the street if needed.
Example Parking Rotation Schedule
Housemate A
Housemate B
Housemate C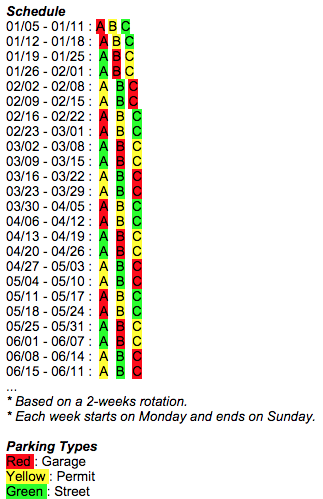 Residents may park in any open parking space within the gated complex if they use a parking permit.
Parking spaces within the complex are not assigned, they are 1st come, 1st serve.
You may not stay parked in the same parking space for over 72 hours, because these spaces are not for long-term storage of cars.